1952 Buick Roadmaster Convertible – Model 76C
| | | | | | | |
| --- | --- | --- | --- | --- | --- | --- |
| Production | | | | | | 2,402 cars |
| Original Baseprice | | | | | | $ 3,453.00 |
| Engine | | | | | | 320.2 cui Fireball L8 |
| | | | | | | 170 |
| | | | | | | 280 ft-lbs |
| | | | | | | 63.2 inches |
| | | | | | | 80 inches |
| | | | | | | 211 inches |
| | | | | | | 126.3 inches |
| | | | | | | 4,395 pounds |
% share of all 1952 Buicks
Quote from Original Literature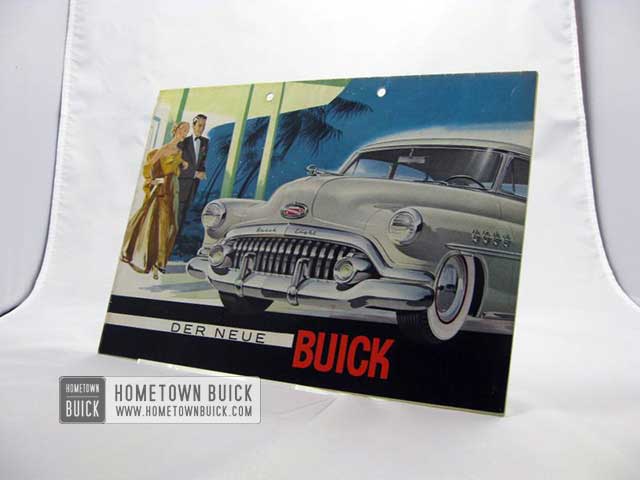 The 1952 Buick Roadmaster Convertible (Model 76C) - this is the most spirited of the master Buicks in looks and line-the one that makes the most of any season, any weather. Hydraulic controls position the top, the windows and even adjust the front seat.
1952 Buick Roadmaster Convertible Equipment
If you have bought a 1952 Buick Roadmaster Convertible, you really are king of the road. Its a massive steel car with lots of room and cool engineering features. 1952 was the first year for the Buick Power Steering (a Roadmaster series only feature).
Back-Up Lights
Direction Signals
Dynaflow Transmission (Automatic)
Flexible Spoke Steering Wheel
Foamtex Seat Cushions
Jumbo-Sized Bumper Guards
Non Glare Mirror
Power Convertible Top
Power Windows
Wheel Covers (Hubcaps)
Antenna (Manual or Automatic)
Easy-Eye Glass
Heater & Defroster
Power Steering
Selectronic Radio
Sonomatic Radio
Windshield Washer
White Wall Tires
See 1952 Buick Options & Accessories for a full list with original prices.
Roadmaster for 1952 has the most powerful engine in its distinguished history. The reason? A new carburetor, the 1952 Buick Airpower carburetor. Read more!
1952 Buick Roadmaster Convertible Colors
To make the Roadmasters really outstanding, Buick introduced six additional (overall 21) Roadmaster only colors. Note: Color accuracy varies by computer/device settings and depends on the actual light.
(See complete 1952 Buick color chart for Duco Paint numbers and correct Two-Tone paint combinations.)
1952 Buick Featured Video
Buick launched their Dealer Organization Training (DOT) in 1952. Each set consists of one or more filmstrip(s), record(s) and literature to train salesmen directly in the dealership. It can be compared to todays PowerPoint. Six Buick videos were published in 1952.
Literature covering the 1952 Buick Roadmaster Convertible
No matter if you repair your 1952 Buick Roadmaster Convertible by yourself or if you have a good mechanic – there are some books that make the maintenance much easier. Hometown Buick has made them online available for you!
HOMETOWN BUICK Collection
1952 is a tough year for Buick collectors. Most unusual items have disappeared with time. Hometown Buick is proud to have some of the rarest items for 1952 Buicks. In this section, we'd like to share them with you.
We love printed matter. You, too? Then we can support you with originals and reprints of 1952 Buick memorabilia. Check out our store!
For 1952 Buick Roadmaster Convertible Owners and Enthusiasts
What is a rare car? To answer that question you need to know the numbers. Unfortunately there are no official numbers for 1952 Buicks. Hometown Buick set up a registry to support you with further information of other 1952 Buicks. Please register your 1952 Buick and help the community.