Welcome to the 1954 Buick Literature section of Hometown Buick. Here you can read everything about the so called 'Beautiful Buy' and how to keep it in beautiful running condition. Besides the repair books you also find original owners information, which car buyers received in 1954.
Please keep in mind that all texts are based on originals and have the knowledge from the year 1954. It is perfect to restore a 54 Buick back to factory specifications. But the info might not match today's security and other standards.
We hope you like our 1954 Buick Literature – and if you wish to find more, we'd like to hear from you!
Hometown Buick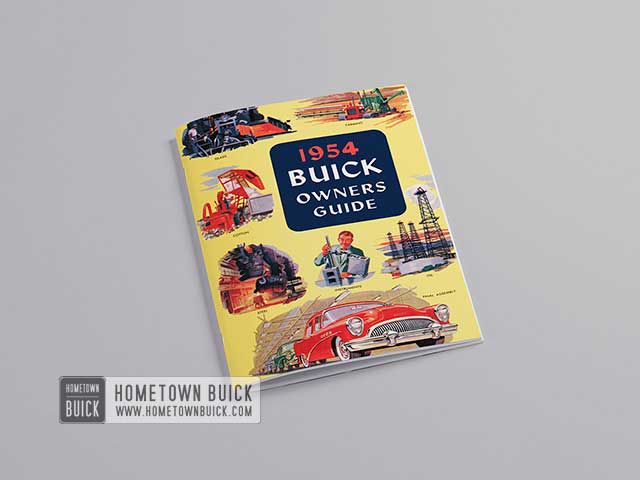 The 1954 Buick Owners Guide is a must have for all 1954 Buick Owners. It has all the basic info you need to operate your 54 Buick properly. The 1954 Buick Owners Guide Cover was designed for a special purpose: "Buick honors those kindred industries that have grown with Buick during the past half century. Glass, steel, textiles, rubber, petroleum, and hundreds of other allied industries have walked hand in hand with Buick for five decades, and as we enter into 1954, our second half century, we pay tribute to the men and women who have worked with Buick in proving that "When Better Automobiles Are Built, Buick Will Build Them.""