Want to know what original owners got in 1959? Need information for maintenance, repair or restoration for your 1959 Buick? Read the books, manuals, guides and other material in this 1959 Buick Literature section!
It is based on original literature provided by Buick back in 1959. Hometown Buick has bought originals in good shape in order to scan, optimize and save the info for the future. We also want to help all owners, enthusiasts and mechanics of a 59 Buick. You can read all items in this section for free!
We hope that you find our online 1959 Buick Literature useful! If not – or if you're missing a certain book or item – please let us know!
Hometown Buick
The 1959 Buick Owners is compiled by the Buick Engineering and Service Department to assist 1959 Buick Owners in attaining the utmost pleasure and satisfaction from their car. It is urged that 1959 Buick Owners follow the instruction and recommendations closely. This 1959 Buick Literature gives you a good introduction to operate your 59 Buick as is was supposed to be - in 1959!
Hometown Buick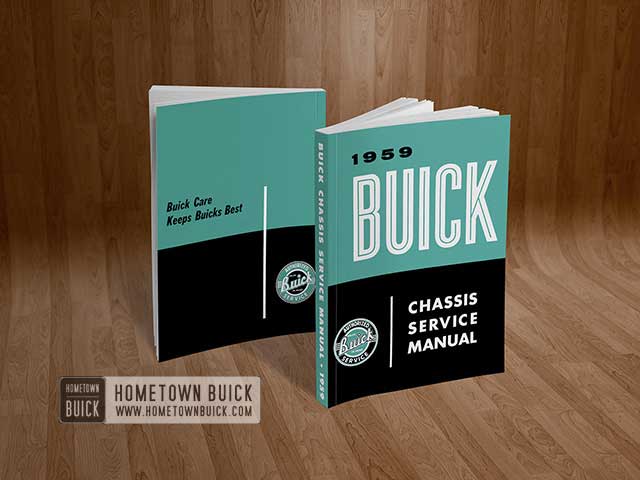 This 1959 Buick Chassis Service Manual is THE standard repair and maintenance book for your 59 Buick. It provides as much info for mechanics and owners as no other 1959 Buick Literature item. Read more about: 1959 Buick Lubricare and Bearing Service, Engine, Engine Fuel and Exhaust Systems, Carburetors, Clutch, Synchromesh Transmission, Universal Joint, Automatic Transmission, Rear Axle, Steering Gear and Tie Rods, Frame and Sheet Metal, Brakes, Electrical Systems, Radio, Heater & Air Conditioner!
Hometown Buick
The 1959 Buick Body Service Manual provides all service information on 1959 Buick bodies and its parts like doors, windows, seats, front and rear end, rear quarter, convertible top, lubrication and exterior moldings. Get original repair and maintenance tips that was published when your 59 Buick was new!