1950 Buick – the Fashion for 50
On this page, you will see why "the thing to do" in 1950 will be to drive a Buick.
Here, you will find more than stunning good looks, more than thrilling performance, more than generous room, and soft riding comfort. Here, you will find a wide choice of body styles, power ranges, and wheelbases that spread-eagle three price classifications – cars that put travel in the Buick manner within the reach of still more people.
In every one of the 1950 Buick models,  you will find that lively, leap-ahead look that instantly says Buick. In every one, you will find thrilling Fireball valve-in-head power, with higher compression ratios and brilliant performance in each instance. In every one of these beauties, you will find room, and the deep comfort of the Buick ride, plus high visibility and feathery handling. In every one, you can have the silken ease of Dynaflow Drive, that completely different and miraculously smooth transmission in which "oil does it all."
Study these creations and you will find closed cars and open cars, smart sports models and far-ranging family cars – cars trimmed down in over-all length for new ease in parking and garaging, and cars stretched out in interior roominess to give you luxurious bigness. You will find four wheelbases, engines in five horsepower ratings, and three complete series-SPECIAL, SUPER, and ROADMASTER.
You will find a wide selection of equipment and accessories that enables you to tailor your 1950 Buick to suit your taste. You will find cars to suit any budget that reaches beyond the very lowest price class – and every one will be a pattern setter. For Buick's the fashion, for this year and for years to come – the fashion in styling, the fashion in brilliant power, the fashion in comfort, handling, and prestige. By any yardstick, Buick's top choice.

20 models in 3 series for 1950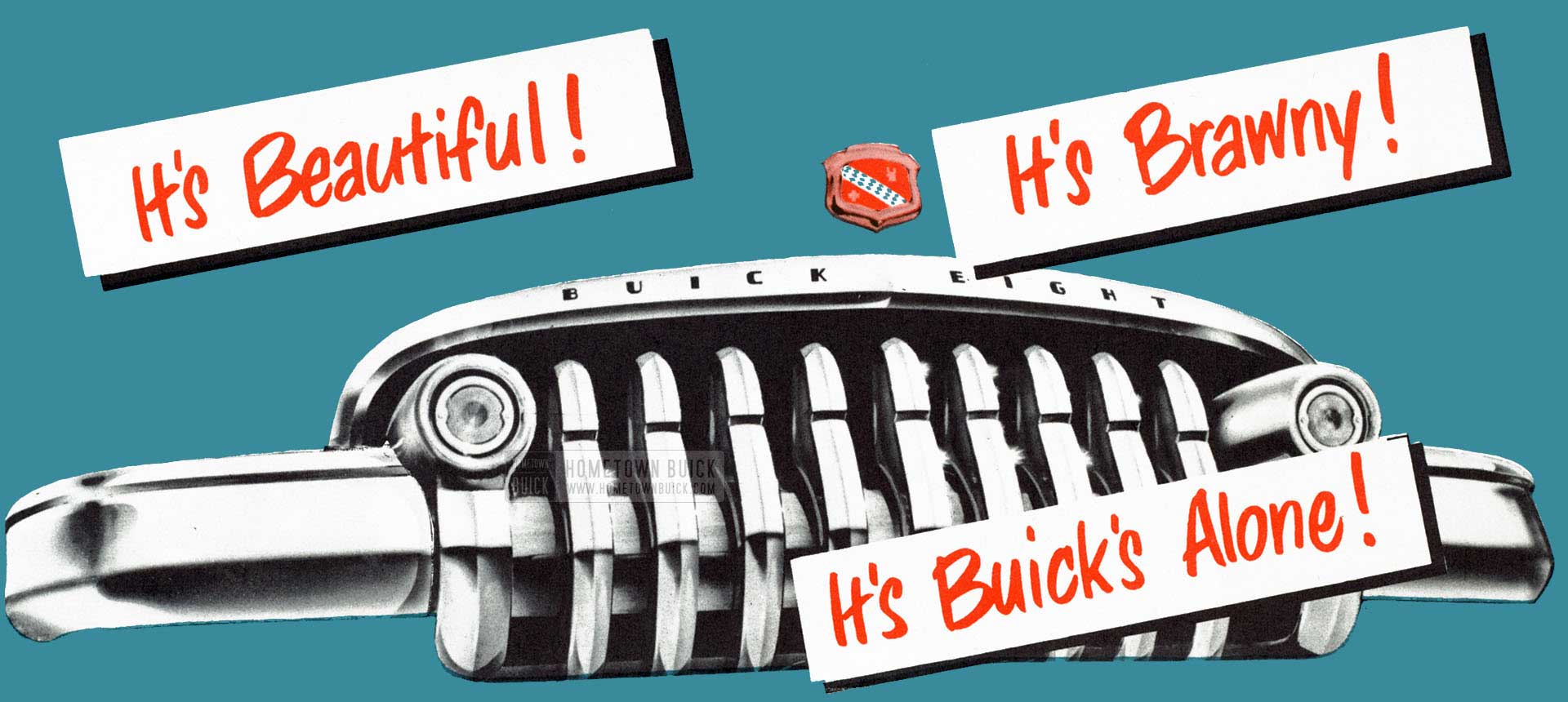 Free repair & owner manuals for your 1950 Buick!
Home Base of 1950 Buick Memorabilia: the Hometown Buick Collection

1950 Buick Colors & Fabrics Book
Hometown Buick
What else happened in 1950?
(Based on this article on Wikipedia.)
January 6 – The UK recognizes the People's Republic of China; the Republic of China severs diplomatic relations with Britain in response.

January 21 – Death of George Orwell, English author (b. 1903).

January 31 – United States President Harry S. Truman orders the development of the hydrogen bomb, in response to the detonation of the Soviet Union's first atomic bomb in 1949.

February 8 – Payment first made by Diners Club card, in New York, first use of a charge card.

February 15 – Walt Disney releases his 12th animated film, Cinderella in Hollywood.

March 17 – University of California, Berkeley researchers announce the creation of element 98, which they name "Californium".

April 28 – Birth of Jay Leno, American comedian and talk show host.

June 25 – Korean War begins: North Korean troops cross the 38th parallel into South Korea.

June 29 – Death of Melitta Bentz, German entrepreneur, who invented the coffee filter in 1908 (b. 1873).

July 16 – Uruguay beat Brazil 2–1 to win the 1950 World Cup.

October – Turing test published.

October 2 – The comic strip Peanuts by Charles M. Schulz is first published in seven U.S. newspapers.

November 4 – The United Nations ends the diplomatic isolation of Spain.
Summary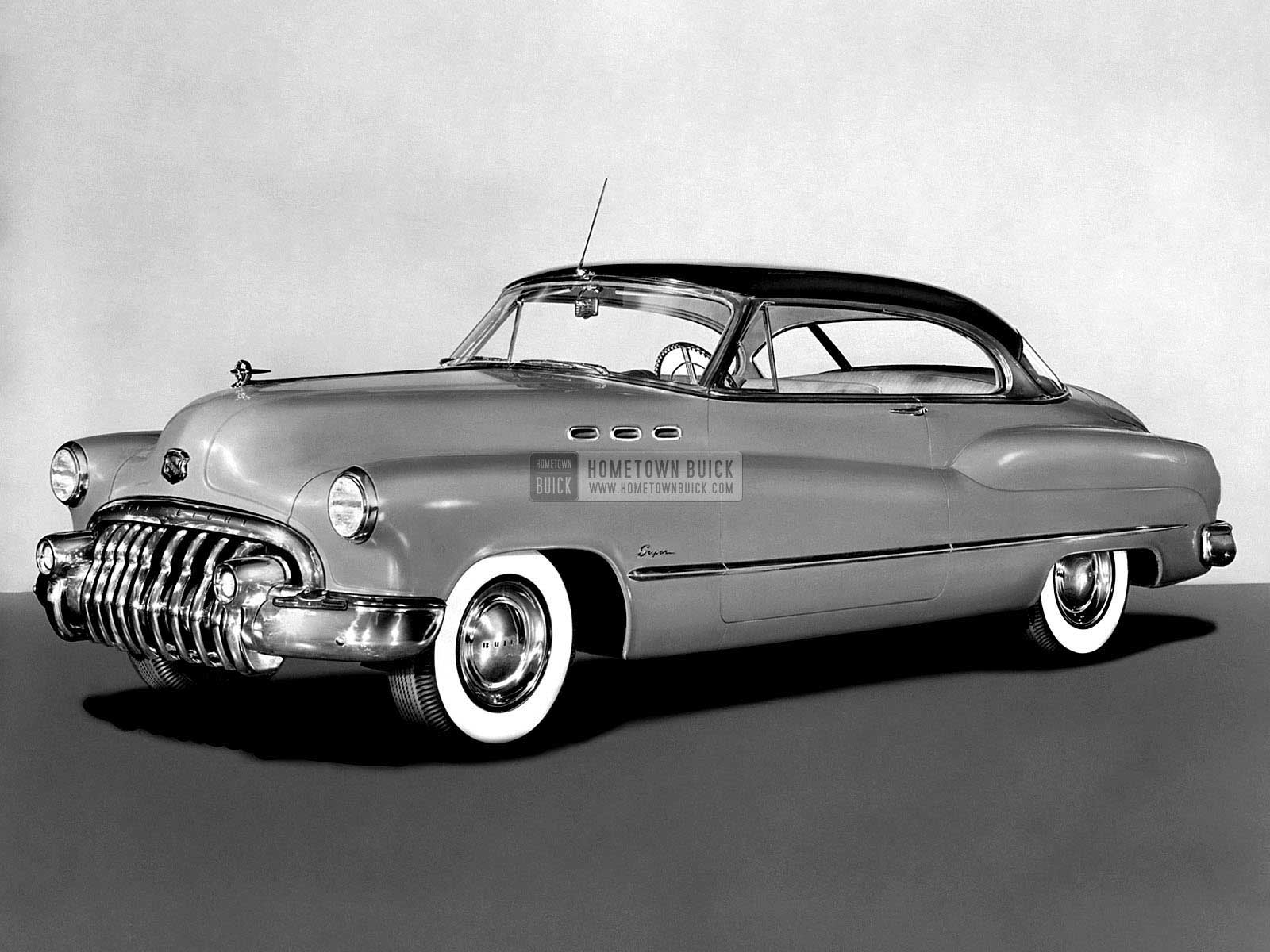 Article Name
Description
Click here to start your research about the 1950 Buick! Models, features, paint colors, interior trims, production figures & much more are waiting for you!
Author
Publisher Name
Publisher Logo