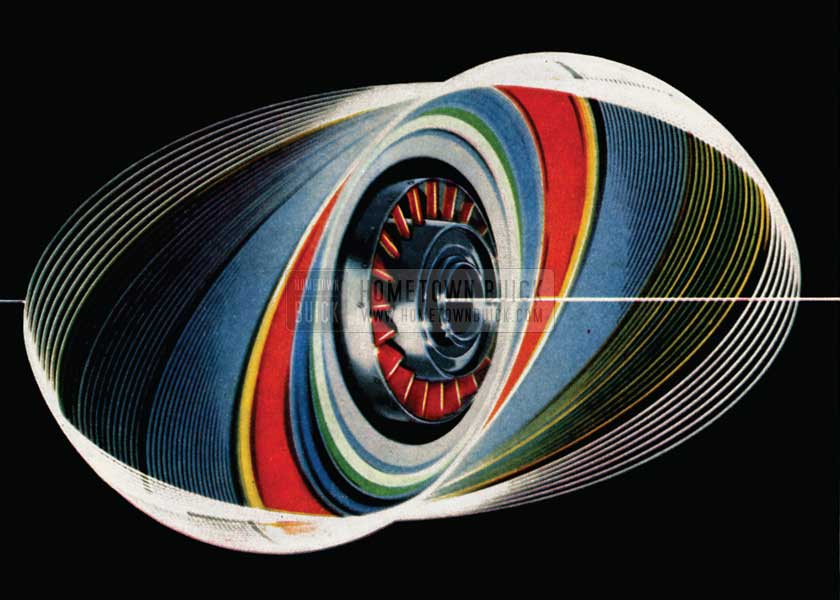 1958 Buick Flight Pitch Dynaflow Transmission – with a new infinite-pitch stator that tailors performance to engine power, and a new third turbine to step up efficiency-is standard equipment on all Limited and Roadmaster models. It is also installed in Super, Century and Special models at extra-cost.
1958 Buick Flight Pitch Dynaflow is so powerful it needs no Low Range – so instant it acts while conventional drives pause to shift their gearsets – so efficient it selects precisely the right pitch for every variation in car load and road speed – so smooth there is never the slightest pause in its triple turbine transmission of power from B-12000 engine to Rotoflow Torque-Tube Drive.
1958 Buick Flight Pitch Dynaflow Range Positions
P-PARK
This position provides a second, positive parking brake in addition to the StepOn foot brake. Setting the indicator on "P" drops a steel pawl into its ratchet, locking rear wheels. It must be used only when the car is at a complete standstill. Engine can be started in this position or "Neutral."
R-REVERSE
For backing, and "rocking" to get traction.
N-NEUTRAL
"N" disconnects the drive shaft from the engine, and the car will roll freely down a grade, or when pushed. A disabled car should be pushed in "Neutral." With a dead battery, the car may be started by placing the Dynaflow selector in "Neutral," gaining momentum of 30 mph, and then shifting to "Grade" Range. Continue to push car until engine starts.
D-DRIVE
For all forward driving.
G-GRADE
For downhill driving, when a braking effect is desired to reduce driving effort and decrease wear on brake lining. Return to "D" as soon as need for braking effect has passed. Car will not accelerate in "G."
Flight Pitch Stator- Vane Position is controlled by the driver's pressure on the gas pedal.
As the gas pedal is pressed down, stator blades move to the most desirable position for performance and economy – thus tailoring transmission to engine output.
Further info about the 1958 Buick Flight Pitch Dynaflow Transmission