1950 Buick Super Convertible – Model 56C
| | | | | | | |
| --- | --- | --- | --- | --- | --- | --- |
| Production | | | | | | 12,259 cars |
| Original Baseprice | | | | | | $ 2,476.00 |
| Engine | | | | | | 263.3 cui Fireball L8 |
| | | | | | | 128 (w/Dynaflow) |
| | | | | | | 217 ft-lbs (w/Dynaflow) |
| | | | | | | 63.9 inches |
| | | | | | | 80 inches |
| | | | | | | 204 inches |
| | | | | | | 121.5 inches |
| | | | | | | 3,965 pounds |
% share of all 1950 Buicks
Quote from Original Literature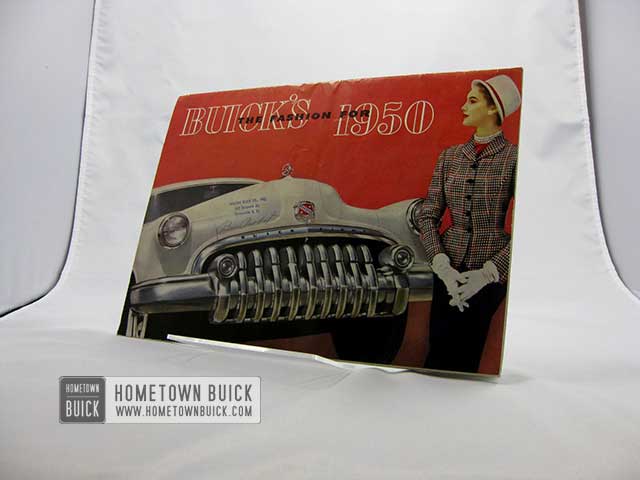 The 1950 Buick Super Convertible (Model 56C) - top up or top down, it's a bright note on any boulevard. Lithe and graceful and full of action - but room for six passengers to boot. Top, windows, and front seat are all hydraulically operated.
1950 Buick Super Convertible Equipment
The 1950 Buick Super series was better equipped than all Special models – inside and out. With just a few chosen options, the 1950 Buick Super Convertible became a true competitor of the Roadmaster Convertible.
Accessories Group (Electric Clock, Wheel Trim Rings, Trunk Light, Rear License Plate Frame)
Direction Signals
Flexible Spoke Steering Wheel
Foamtex Seat Cushions
Antenna only
Back-up Lights
Dynaflow Transmission (Automatic)
Glare Proof Mirror
Heater & Defroster
Sonomatic Radio with Manual Antenna
Selectronic Radio with Manual Antenna
White Wall Tires
Windshield Washer
See 1950 Buick Options & Accessories for a full list with original prices.
Controls for 1950 Buick Dynaflow Transmission Driving are as simple as you can imagine. A foot-brake, an accelerator & a control lever. Read more!
1950 Buick Super Convertible Colors
Buyers of a 1950 Buick Super Convertible had 19 exterior colors to chose from. Note: Color accuracy varies by computer/device settings and depends on the actual light.
(See complete 1950 Buick color chart for Duco Paint numbers.)
1950 Buick Featured Video
Literature covering the 1950 Buick Super Convertible
Hometown Buick has a big online literature archive – including handy repair manuals for your 1950 Buick Super Convertible. Enjoy reading them, most parts of every item are free to the public.
HOMETOWN BUICK Collection
Rare Fabric & Factory books and Buick Marketing Folders; we at Hometown Buick have collected many 1950 Buick items of the years. We love sharing the old stuff with you!
You want to enjoy 1950 Buick literature offline? We can support you by offering spare original items as well as high quality reproductions in the Homwtown Buick shop.
For 1950 Buick Super Convertible Owners and Enthusiasts