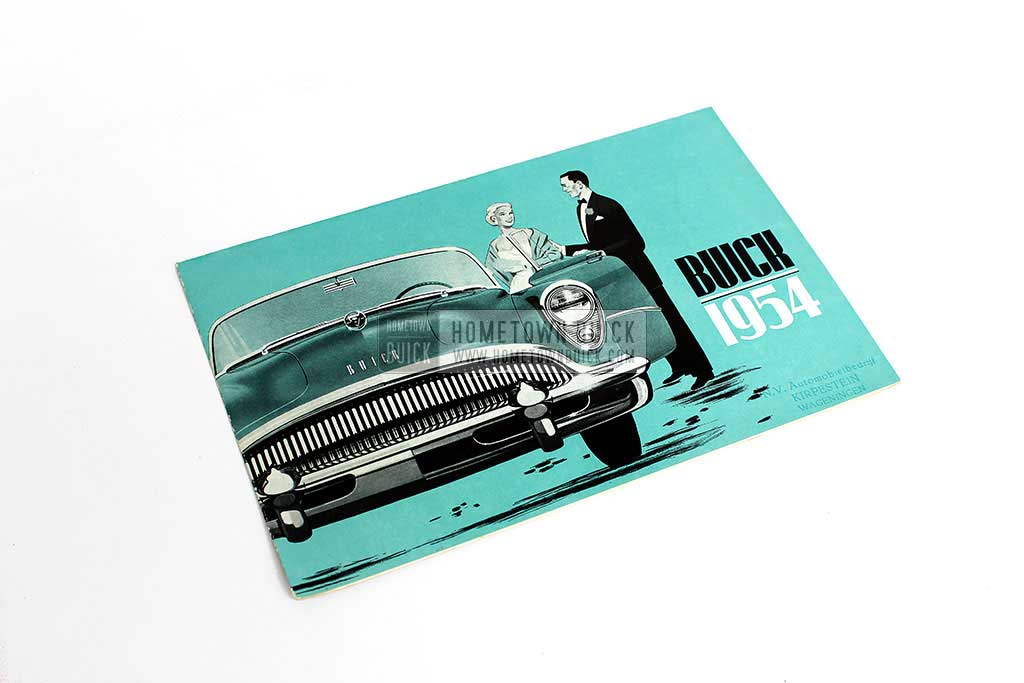 1954 Buick Sales Flyer (Netherlands)
| | |
| --- | --- |
| Published in | 1954 |
| Author | Buick Division of General Motors |
| Title | 1954 Buick Sales Flyer (Netherlands) |
| Media Type | Flyer |
| Category | Flyer |
| Language | Dutch |
| Pages | 2 |
| Size (H x W x D) | 30.9 cm x 47.9 cm x 0.1 cm |
| Original | Yes |
Rarity Scale
(0=millions of copies available – 100=unique item)
Do you know what "Wanneer betere automobielen gebouwd worden, bouwt Buick ze" means? It's the famous slogan "When better automobiles are built Buick will bild them" – but in Dutch. Yes, Buick were very active overseas back in the 50s. General Motors had a plant in Antwerpen, Netherlands, which produced 1954 Buicks especially for the European market.
To promote them, Buick published the 1954 Buick Sales Flyer in Dutch language. It's a translation from the original English version. There were also French and German versions of this flyer available. The content is always the same. That's significant, because the Roadmaster models (the model 72R is shown in the 1954 Buick Sales Flyer) were not available in Europe at all. The only series buyers could choose from were Special (only model 41 D) and Super (all models). Other models had to be imported from the US.
When you open the turquoise covered 1954 Buick Sales Flyer, the first things you see is a double-page about the engineering features. They are: Trunk space, dash, ventilation system, shock absorbers and engine/pistons. The inner page can be used as poster/wallpaper. Five models are presented:
The model codes were the same as in the US and were based on the Fisher body codes.
The back of the 1954 Buick Sales Flyer is reserved for the technical data called "Technische Bijzonderheden". It contains data for Special, Super and Roadmaster series. All specifications were stated by using the metric system.
From the collectors' standpoint, the 1954 Buick Sales Flyer published in the Netherlands is a very very rare item. You could wait years finding one. I've seen only one of them since 2006 – and bought it. The price was not very high, which makes me believe an average price could be around 25-30 USD depending on the condition.