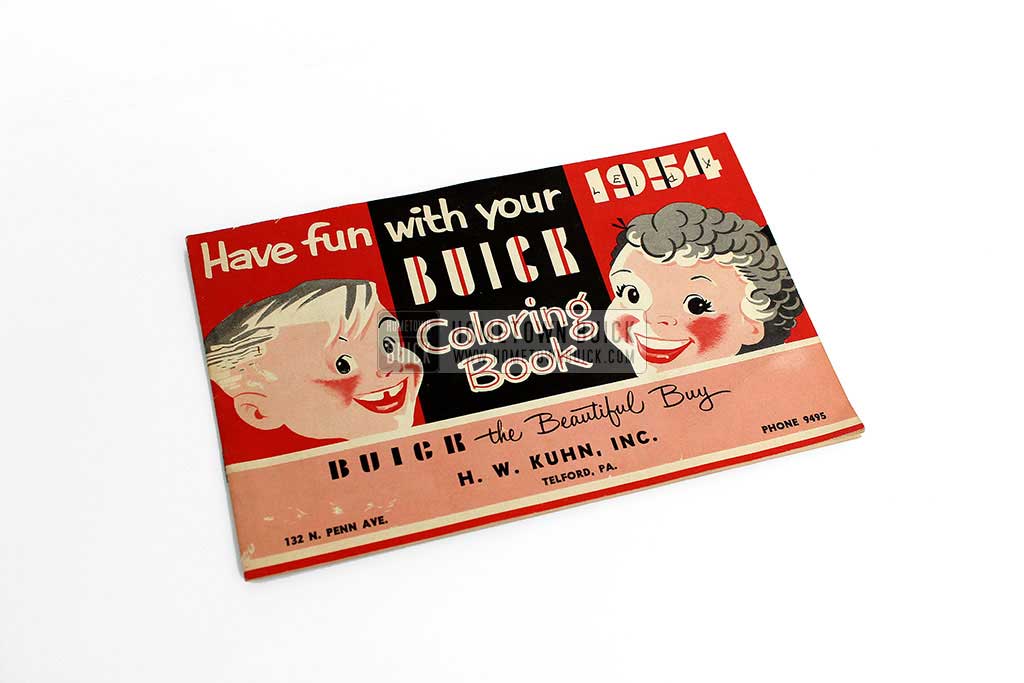 | | |
| --- | --- |
| Published in | 1954 |
| Author | Buick Division of General Motors |
| Title | 1954 Buick Coloring Book |
| Media Type | Brochure |
| Category | Coloring Books |
| Language | English |
| Pages | 12 |
| Size (H x W x D) | 13 cm x 20.1 cm x 0.1 cm |
| Original | Yes |
Rarity Scale
(0=millions of copies available – 100=unique item)
If you're looking for a way to connect your car hobby with your kids, this booklet is the answer: The 1954 Buick Coloring Book. It was provided through Buick dealerships in 1954. I guess they could be ordered through the Buick dealer merchandising program, because the dealer name and address is printed in professionally. This higher effort – the other solution would have been a sticker for the dealership – made this item more expensive to dealers and therefore rarer today. A copy of the 1954 Buick coloring book can be found on eBay each 1-3 years. So you better go for it than wait for another one!
Now, lets take a look at the content. The 1954 Buick coloring book has 12 pages. On each page (cover and back are different, of course) is a model to paint. They are (in order of appearance):
1903 Buick
1908 Buick
1954 Buick Roadmaster
1928 Buick
1954 Buick Super
1938 Buick
1954 Buick Century
1948 Buick
1954 Buick Special
You see, the coloring book cover all series for 1954 and is filled with models of previous years. By looking at the drawings it is significant that they have been made before the official announcement date (6th of January 1954). The Skylark is showing three portholes (also known as ventiports). If you're familiar with this cool looking roadster, you know: A Skylark has no portholes at all!
Most of the cars are set in beautiful scenery – people, a house or a landscape. So the whole page can be colored, not only the cars. We've provided the 1954 Buick coloring book to our friends and family and my experience is: Kids love it! Depending on their age, some of them are getting curious about the old cars, too. And I can tell you, that's great fun sitting with kids and talking about the 1954 Buick – the beautiful buy!
This is such a neat item that Hometown Buick has decided to make a small personal reproduction series for friends and family. We have some spare copies left – get your reprint of the 1954 Buick Coloring Book now!