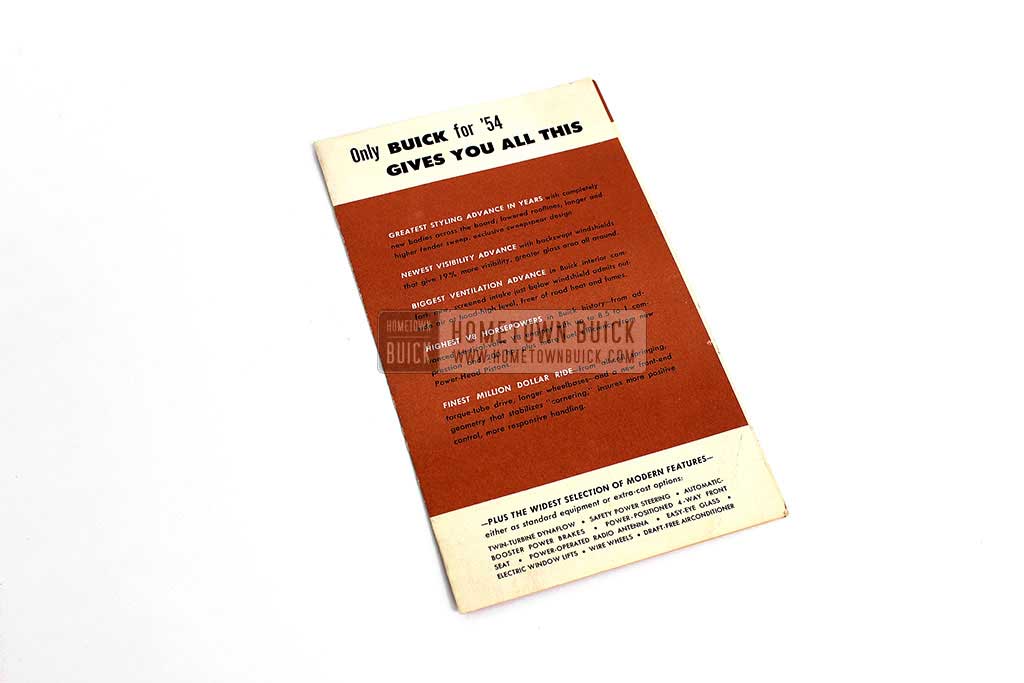 1954 Buick Price Flyer (Chicago)
| | |
| --- | --- |
| Published in | 1954 |
| Author | Buick Division of General Motors |
| Title | 1954 Buick Price Flyer (Chicago) |
| Media Type | Flyer |
| Category | Flyer |
| Language | English |
| Pages | 2 |
| Size (H x W x D) | 21.2 cm x 24.8 cm x 0.1 cm (unfolded) |
| Original | Yes |
Rarity Scale
(0=millions of copies available – 100=unique item)
If you want to buy a car, you definitely want to know how much it costs – not only the car itself, but also the optional equipment. That didn't change since cars are built. Buick had suggested retailed prices for 1954. It was up to the dealers to use or change them. A 1954 Buick in Flint was less expensive that a 1954 Buick in Chicago because of the delivery. For that reason Buick offered a template especially for dealers.
This 1954 Buick price flyer had the same layout for all regions. On the front there are major selling points like "The Greatest Styling", "Newest Visibilty Advance" or the "Highest V8 Horsepowers". This cover was always identical. The back side was reserved for dealerships in a specific area – in this case Chicago. Today you would expect a telephone number, an email-address a website. Back in 1954 they only used dealership name and street. To my surprise, a telephone number is missing, but I guess that was due to the time. Telephone might have been expensive or not available in certain areas.
The inner side is the most interesting part of the 1954 Buick price flyer. It is showing all models with model code by series (including the 1954 Buick Skylark). There are columns in which dealers could write the prices by hand. The calculation was the following: "Local Delivered Price" + "Optional Equipment and Factory Installed Accessories" = "Total Price"
To fill the field for optional equipment, you need the exact price for each accessory. And that's what we have on the right side. The cool thing is: If there are restrictions in availability, it is mentioned below the equipment. Example: "Power Steering……. 134.40 (Optional on Dynaflow-equipped models) In other words: Power Steering was only available with Dynaflow Transmission.
There are optional 20 items to choose from. The most expensive one is the "Air Conditioner" for 594 USD. Remember, the base price for 1954 Buick Special models were only around 2,000 USD. 594 USD is more than 25%! The cheapest option were the "Windshield Wipers" for only 9.70 USD. Yes, these were not standard, only Roadmaster models and the beautiful 1954 Buick Skylark had them installed without any extra cost.
With the 1954 Buick price flyer its easy to go back in time and calculate the original price of a 1954 Buick. If you're an owner, this flyer could be a neat addition to your collection. There are always a few on eBay from time to time. I guess for a good copy you only have to wait a few weeks. The average price is about 15-20 USD (plus shipping).
The price calculation of our 1954 Buick Configurator is based on the prices shown in the 1954 Buick price flyer.