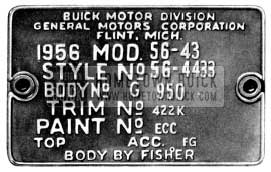 1956 Buick Body Tag Decode
Decode the 1956 Buick Body Tag to see how your 1956 Buick came originally from the factory. It is a plate located under the hood attached to the outer dash (passenger side). Use this guide to start your 1956 Buick Body Tag decode now!
1956 MOD.
Specifies the model via. Refer to our 1956 Buick Production Overview
STYLE NO.
Specifies the Fisher Body Style. 50 means 1956 model year. The next digit "4" stands for Buick (Fisher Body produced bodies for Cadillac, Oldsmobile and others, too). Next one is for the series: 4 (Special), 5 (Super), 6 (Century) or 7 (Roadmaster). The rest tells us the exact model (see 1956 Buick Production Overview)!
BODY NO.
The leading letter indicates the assembly plant:
G – Flint, Michigan
BC – South Gate, California
BL – Linden, New Jersey
BK – Kansas City, Missouri
BW – Wilmington, Delaware
BA – Atlanta, Georgia
BF – Framingham, Massachusetts
BT – Arlington, Texas
TRIM NO.
This info shows which interior was chosen. Please see our 1956 Buick Interior Trim section.
PAINT NO.
The original exterior paint is given here. Look it up on this 1956 Buick Colors page.
TOP & ACC
Some of the factory installed options were marked here. Compare the letters with this list of 1956 Buick Optional Equipment.
1956 Buick Assembly Plants
1956 Buick VIN Tag Decode
Each 1956 Buick has an individual vehicle identification number stamped on the VIN tag. The serial number is located on a plate affixed to the left front pillar post below the belt molding line and is visible by opening the left front door.
First digit
This indicates the series.
4 – Special
5 – Super
6 – Century
7 – Roadmaster
Letter at second place
This indicates the model year.
C – 1956
Seven additional digits
This is the production sequence number.