1951 Buick Super Sedan – Model 51
| | | | | | | |
| --- | --- | --- | --- | --- | --- | --- |
| Production | | | | | | 92,886 cars |
| Original Baseprice | | | | | | $ 2,356.00 |
| Engine | | | | | | 263.3 cui Fireball L8 |
| | | | | | | 128 (w/Dynaflow) |
| | | | | | | 225 ft-lbs (w/Dynaflow) |
| | | | | | | 62.8 inches |
| | | | | | | 80 inches |
| | | | | | | 206.2 inches |
| | | | | | | 121.5 inches |
| | | | | | | 3,755 pounds |
% share of all 1951 Buicks
Quote from Original Literature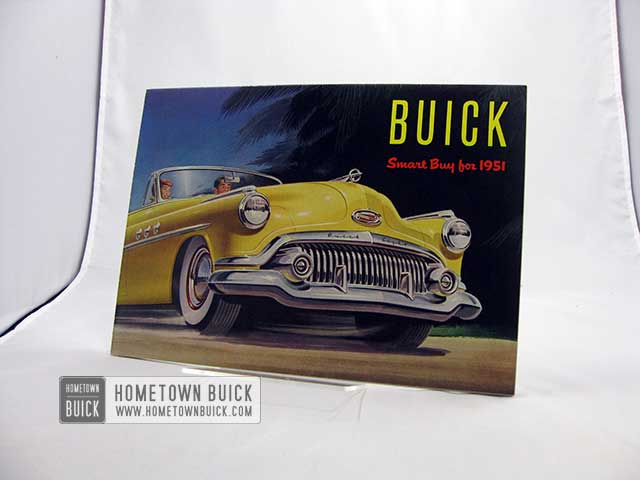 The 1951 Buick Super Sedan (Model 51) - high in popularity, high in pleasure-giving roominess and smart comfort. This sleek 6-passenger sedan has the gracious touch of continental styling from distinctively-angled rear side windows.
1951 Buick Super Sedan Equipment
The 1951 Buick Super Sedan was part of the Super series – well known for a good priced car with lots of luxury options.
Direction Signals
Electric Clock
Flexible Spoke Steering Wheel
Foamtex Seat Cushions
One-Piece Hood
One-Piece Windshield
Rear Fender Gravel Shield
Sweepspear
Antenna (Manual or Automatic)
Armrest Package
Auxiliary Fog Lamps
Back-Up Lights
Dynaflow Transmission (Automatic Transmission)
Heater & Defroster
Rear View Mirror
Selectronic Radio
Sonomatic Radio
Two-Tone Paint
Wheel Covers
White Wall Tires
Windshield Washer
See 1951 Buick Options & Accessories for a full list with original prices.
1951 Buick Selectronic Radio Tuning brings in as many of the available stations as you want-or as few as you choose. Read more!
1951 Buick Super Sedan Colors
Buyers of the 1951 Buick Super Sedan had the choice between 15 base colors. They could be used as solid or two-tone color. In this case, the roof could be painted differently. Note: Color accuracy varies by computer/device settings and depends on the actual light.
(See complete 1951 Buick color chart for Duco Paint numbers.)
Roof Colors (Two-Tone Paint)
Imperial Blue (with Barton Grey or Galena Blue)
Cloudmist Grey (with Sky Grey)
Sky Grey (with Verde Green, Olympic Blue, Victoria Maroon, Sharon Green, Cloudmist Grey, Calumet Green, Venetian Blue or Galena Blue)
Calumet Green (with Glenn Green)
1951 Buick Super Sedan Interior Trim Combinations
Standard Trim.
Seat Material:
Dark Grey Striped Cloth
Bolster Material:
Dark Grey Striped Cloth
To keep production costs down, there was only one trim combination available for the model 51.
1951 Buick Featured Video
Literature covering the 1951 Buick Super Sedan
If you own a 1951 Buick Super Sedan, there are a fiew publications that help you to maintain your beloved Buick. Hometown Buick has bought, scanned and prepared most of them to grant you online access – most parts are for free!
HOMETOWN BUICK Collection
Besides basic literature, Hometown Buick has a variety of items that are very uncommon, rare and expensive. Browse through our collection and dive into the history of 1951 Buicks!
If you like printed matter, we can offer you spare originals and high quality reprints in our online shop.
For 1951 Buick Super Sedan Owners and Enthusiasts
For restauration or more information about your 1951 Buick Super Sedan, there is a good source: the Body Tag. It provides info about the original paint job, chosen trim option, accessories and (up to a certain point) the time of assembly. Find out more about your Buick and decode your cars Body Tag now!
Unfortunalty there is no official source that provides plant/production statistics. So its almost impossible to say if the options of your Buick were rare or not. Hometown Buick wants to rebuild Buicks history and has set up the 1951 Buick Registry. Support us to support the community by submitting your car data today!