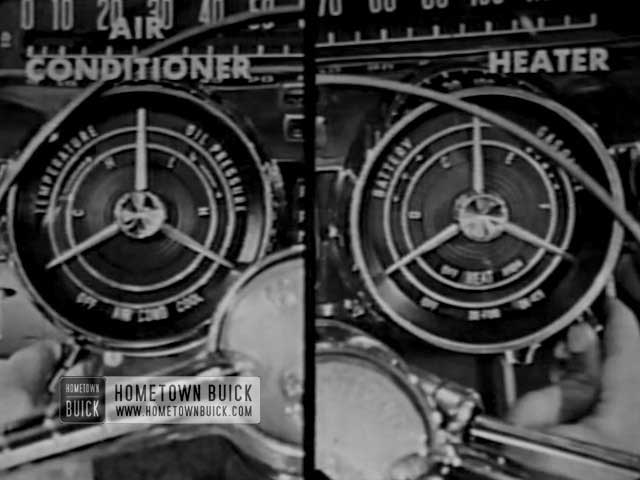 1959 Buick Options (Optional Equipment)
The list of 1959 Buick Options (Optional Equipment) had over 60 different items! If you compare it with the options for the 1950 Buick you see the big difference. The progress that was made in only ten years was truly amazing! The rarest option for 59 Buick were probably the new Bucket Seats replacing the front seat which was more like a couch in today's standards.
If you're restoring a 59 Buick or have a survivor, you can see how it was equipped from the factory by comparing the info of the body tag with our list of 1959 Buick Optional Equipment. In combination with the car price you can also recalculate the original price!
A closer look at 1959 Buick Options & Accessories
1959 Buick Optional Equipment Overview
| | | | | | |
| --- | --- | --- | --- | --- | --- |
| Code | Description | Le Sabre | Invicta | Electra | Electra 225 |
| A7 | Twin Turbine Transmission | $220.38 | Standard | Standard | Standard |
| A8 | Triple Turbine Transmission | $295.63 | $75.25 | $75.25 | $75.25 |
| B1 | Heater and Defroster | $102.13 | $102.13 | $102.13 | $102.13 |
| B2 | Heater and Defroster with Automatic Controls | $118.25 | $118.25 | $118.25 | $118.25 |
| C | Power Steering | $107.50 | $107.50 | Standard | Standard |
| D1 | Sonomatic Radio with Manual Antenna | $102.13 | $102.13 | $102.13 | $102.13 |
| D2 | Sonomatic Radio with Electric Antenna | $124.70 | $124.70 | $124.70 | $124.70 |
| D3 | Wonderbar Radio with Manual Antenna | $135.45 | $135.45 | $135.45 | $135.45 |
| D4 | Wonderbar Radio with Electric Antenna | $158.02 | $158.02 | $158.02 | $158.02 |
| D5 | Transistor Portable Radio with Manual Antenna | $146.20 | $146.20 | $146.20 | $146.20 |
| D6 | Transistor Portable Radio with Electric Antenna | $168.77 | $168.77 | $168.77 | $168.77 |
| | Electric Antenna | $22.57 | $22.57 | $22.57 | $22.57 |
| E | Rear Seat Speaker | $17.20 | $17.20 | $17.20 | $17.20 |
| F | Safety Group (B/U Lights, Glare Proof Mirror, Prk. Brk,Signal Light, Safety Buzzer, Map Light) | $34.40 | $34.40 | $34.40 | Standard |
| G | Windshield Washer | $19.35 | $19.35 | Standard | Standard |
| G1 | Dual Speed Wipers | $4.30 | $4.30 | Standard | Standard |
| H | Deluxe Steering Wheel | $16.13 | Standard | Standard | Standard |
| I6 | E-Z Eye Glass | $43.00 | $43.00 | $43.00 | $43.00 |
| I7 | E-Z Eye Glass – Windshield Only | $29.03 | $29.03 | $29.03 | $29.03 |
| J | Power Seat – 6-way | $102.13 (n/a for  4411) | $102.13 | $102.13 | $102.13 |
| J | Power Seat – 6/2-way | n/a | n/a | n/a | $73.10 |
| K6 | Foamtex Seat Cushions | $22.58 | Standard | Standard | Standard |
| K7 | Instrument Panel Safety Pad (Upper) | $16.13 | Standard | Standard | Standard |
| K8 | Foamtex Seat Cushions and Instrument Panel Safety Pad (Upper) | $38.71 | Standard | Standard | Standard |
| L | Power Brakes | $43.00 | $43.00 | Standard | Standard |
| M1 | Deluxe Wheel Covers | $19.35 | Standard | Standard | n/a |
| M2 | Super Deluxe Wheel Covers | $36.55 | $17.20 | $17.20 | Standard |
| N6 | Air Conditioner Radiator | $8.39 | $8.39 | $8.39 | $8.39 |
| N7 | Air Conditioner | $430.00 | $430.00 | $430.00 | $430.00 |
| N8 | Air Conditioner Modification | $12.90 | $12.90 | $12.90 | $12.90 |
| O | Accessory Group (El. Clock, Trunk Light, Lic. Plate Frame) | $21.50 | n/a | n/a | n/a |
| P1 | Custom Bright Moulding (Drip Moulding and grille ornament) | $16.13 | n/a | n/a | n/a |
| P2 | Custom Bright Moulding (4411,4419,4435-drip molding,upper door frames, vent frame and grille ornament; 4619,4635 – upper door frames and vent frame. Drip and roof moldings standard) | $40.85 | $40.85 | n/a | n/a |
| P3 | Custom Bright Ext. Moulding – Lower | $26.88 | n/a | n/a | n/a |
| Q | Permanent Anti-Freeze (8,4 Qts.) | $6.85 | $6.85 | n/a | n/a |
| R1 | Devided Rear Seat (only for 4435/4635) | $37.63 | $37.63 | n/a | n/a |
| R2 | Junior Rear Seat (only for 4435/4635) | $79.55 | $79.55 | n/a | n/a |
| R3 | Luggage Rack (only for 4435/4635) | $99.71 | $99.71 | n/a | n/a |
| R4 | Opt. R1+R2 (only for 4435/4635) | $117.18 | $117.18 | n/a | n/a |
| R5 | Opt. R1+R3 (only for 4435/4635) | $137.34 | $137.34 | n/a | n/a |
| R6 | Opt. R2+R3 (only for 4435/4635) | $179.26 | $179.26 | n/a | n/a |
| R7 | Opt. R1+R2+R3 (only for 4435/4635) | $216.89 | $216.89 | n/a | n/a |
| S | Chrome Door Guards (all 2-dr models) | $5.16 | $5.16 | $5.16 | $5.16 |
| S | Chrome Door Guards (all 4-dr models) | $8.60 | $8.60 | $8.60 | $8.60 |
| T1 | White Sidewall Tires (7.60 x 15) | $43.27 | $43.27 | n/a | n/a |
| T1 | White Sidewall Tires (8.00 x 15) | n/a | n/a | $48.00 | $48.00 |
| T2 | Oversize W/S/W Tires (8.00 x 15) – White Side Wall | n/a | n/a | $70.74 | n/a |
| T3 | Oversize B/S/W Tires (8.00 x 15) – Black Side Wall | n/a | n/a | $22.74 | n/a |
| U6 | Power Vents | n/a | n/a | $59.13 | $59.13 |
| U7 | Power Front & Rear Windows (all but 11 & 67 body styles) | $107.50 | $107.50 | $107.50 | $107.50 |
| U8 | Opt. U6+U7 (all but 11 & 67 body styles) | $166.63 | $166.63 | $166.63 | $166.63 |
| V | Air Ride | $145.13 | $145.13 | $145.13 | Standard |
| W1 | Power Pack | $51.60 | Standard | Standard | Standard |
| W2 | Dual Exhaust | $31.18 | n/a | Standard | Standard |
| X | Autronic Eye | $49.99 | $49.99 | $49.99 | $49.99 |
| Y | Positive-Traction Differential | $53.75 | $53.75 | $53.75 | $53.75 |
| Z | Power Tail Gate Window (only for 4435/4635) | $26.88 | $26.88 | $26.88 | $26.88 |
| ** | Bucket Seats (incl. 2-Way Power on Driver Side, only for 4867) | n/a | n/a | n/a | $107.50 |
| ** | Two-Tone Paint (Std. Colors) | $16.13 | $16.13 | $16.13 | Standard |
| ** | Custom Trim (only for 4419/4437/4439) | $49.45 | n/a | n/a | n/a |